After a very productive three months in Reykjavík, it's great to be back in Skagafjörður! I'm looking forward to getting back in the field, very soon now, armed with lots of new knowledge about Icelandic wetlands and the classification of ruins. My Icelandic has improved a lot, too: at Háskóli Íslands, I listened to lectures and read articles in Icelandic almost every day. I'm still not a very confident speaker, but I'm sure I'll get there!
Yesterday (Páskadagur, Easter Sunday) was gloriously sunny here in Sauðárkrókur, and I took a walk up behind the town, all the way to the fence that marks the entrance to the afrétt (the communal summer pastures on the high mountains, where sheep spend most of the summer months).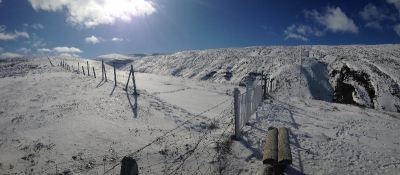 A sunny, snowy Easter afternoon at the edge of the afrétt. The fence continues down into the gorge, across the river, and back up the other side.
One of my favorite things to do in Reykjavík (aside from working on my research, and exploring the city and the landscape) was to volunteer at Kattholt! Kattholt is a shelter that takes in lost and stray cats, caring for them while they wait to go home. They also run a cat hotel. And you might have heard of the greatest reality show in the world,
Keeping Up with the Kattarshians
- that's run by Kattholt too! (
Kattar
= the genitive form of
cat
in Icelandic.)
If you'd like to know more about Kattholt (and you read Icelandic),
check out this interview I gave to Fréttatíminn.
As always, you can find more pictures of my exploits at Facebook, Tumblr, and Instagram (via the links in the sidebar).