Now that floating is winding down (just a few more samples to bag, and then I can mail them all off!) I have started spending more time at the
Skagafjörður archives here in Sauðárkrókur
. I've been reading the diary of Ólafur Sigurðsson, the farmer at Ás, who moved there in 1854 and began keeping the diary on January 1, 1855. (Yes, I'm reading someone's diary and then posting about it on the internet.) It's terse, short writing: he writes one line each day, a few words about the weather and then a statement about something he did. I'm only partway through 1856 - my Icelandic isn't good enough yet to read it quickly, and even so, there are a lot of words he uses in an older sense that I have to dig through
the 1874 dictionary
to find, like
útræna
, a breeze from the sea, which google translate insists means
exogenous
. Even so, I'm getting a vivid picture of this man's life. He has a steady stream of visitors and often goes to work with other farmers, especially his friend Páll. He also mentions Elizabeth a lot - he talks about her like a wife, though other records show he was married to a Sigurlaug Gunnarsdóttir, not sure what's up with that; anyway Elizabeth went away for a few days at the end of November, and Ólaf's entries for those days are just a terse "Eins - eins - eins" (same - same - same) until finally "kom Elizabeth heim" (d'awww). Ólafur also seems to be a coffin-maker, every few months he talks about making one and burying people, including a man and woman from the farm of Rein with a few weeks of each other. On one particularly heartbreaking day in May, "fjúkarlæðingar varð hér að vatni; jarðað barnið"; my best guess at translation is that "an avalanche caused a flood; buried a child."
In other words, I keep getting distracted from my actual purpose in reading these documents, which is to look for any mention of the fornbýli so I can discuss specifically what they were used for in the 19th century. The closest I've come so far - and again, I'm only in 1856 - is that he spends a lot of time in August of 1855 visiting and fixing up
rústir/rústinum/rústum/rústabakka
(all variations on "the ruins"), and then he brings horses there. No mention of a place-name or where on the landscape it's located, but this is a good example anyway of re-use of old places! Maybe he'll learn place-names as he spends more years farming the land at Ás - we shall see.
Oh, and Ólafur's handwriting is absolutely gorgeous: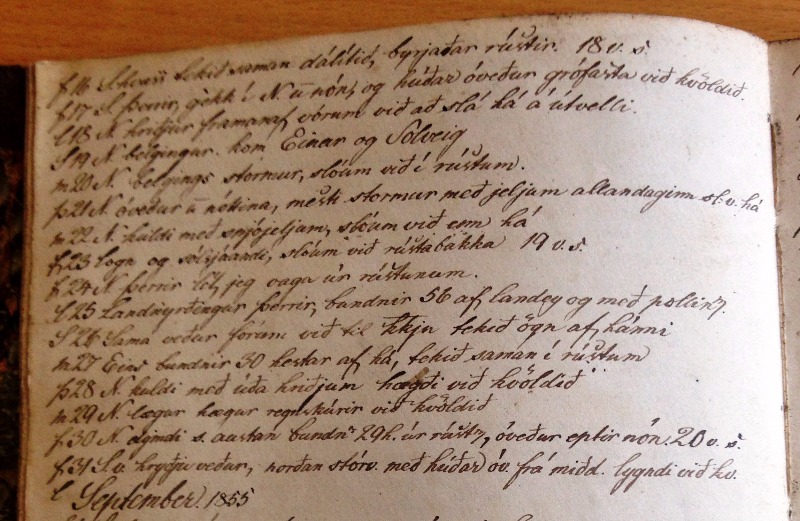 lots of words that start with "rúst": relevant to my interests
ETA: I have been informed that "rústir" in this context probably refers to a cryoturbated boggy area, rather than ruined structures. Still more work to do!